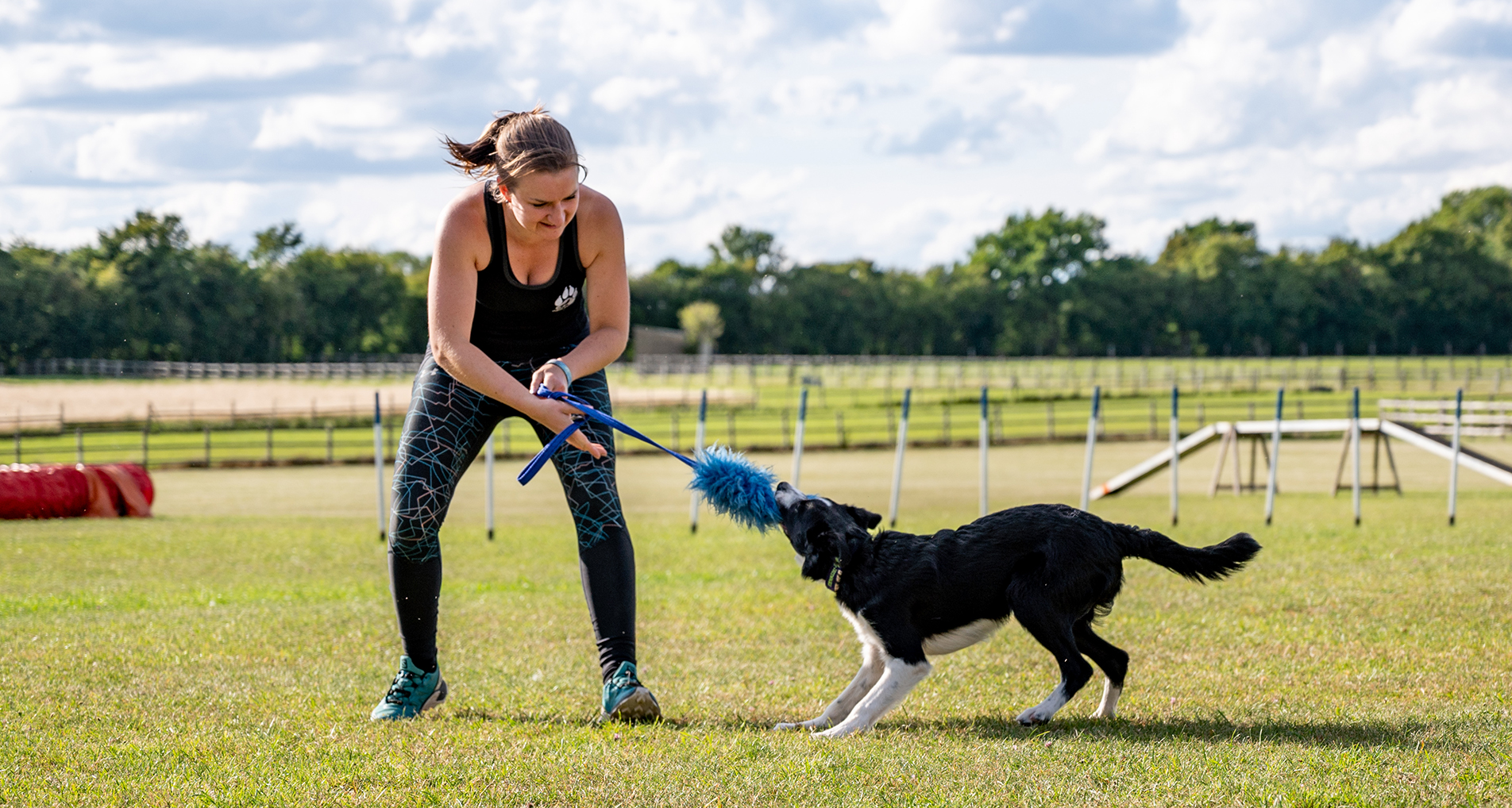 Find Out More About Wild Paws Ltd
Wild Paws Agility was established in 2012 when it began to create miniature agility equipment to assist judges, trainers, coaches and competitors in agility.  In 2013 the business expanded to begin coaching classes in Nottingham, where Nicola was studying a postgraduate Architecture degree. This quickly became the majority of the business  with all classes having extensive waiting lists. Nicola was regularly asked to teach seminars and events at other clubs around the country.
When Nicola decided to pursue both a career as an Architect as well as her passion of coaching agility she moved back to the North West in 2015 to complete her professional certificate as an Architect. She began coaching two evenings a week as well as  seminar days both at Wild Paws Agility and around the country. The popularity of agility classes grew and as they did the decision was made to sell the miniature agility equipment side of the business, to Agility By Design, to allow further focus on the coaching side. From this point a 3 years waiting list for classes grew and teaching agility became a larger part in Nicola's life. Her joy for coaching dogs and humans as well as the Psychology of teaching grew and Nicola is regularly to be found at training events around the country learning as much as possible about all things dog training and agility.
In 2020 Nicola made the leap to use her skills gained as an Architect in creative thinking, problem solving and organisation to transition Wild Paws Agility into a limited company and change her career path to follow her passion in dog agility. Hannah and Becky were added to the Wild Paws coaching family as exceptional dog trainers already and agility students of Nicola's they had all the knowledge required to help beginner dogs and handlers find the joy in building a bond between dog and human using agility. Later in 2020 with rapid growth Laura joined the training team and Jana took on the roll of administration for Wild Paws. 
At Wild Paws Agility our training ethos is all about positive reinforcement, in order for the dog to confidently decision make they must not fear consequences. The idea of an independently thinking dog is the driving force behind Nicola's training and handling and part of the secret to her success. Nicola trains all levels of dog from beginners and handlers just wanting to have fun with their dogs to championship level handlers wanting to be the best.
At Wild Paws Agility we have a great family of dogs and trainers. Nicola heads up the team leading lesson planning and staff development as well as in person teaching, she has brought in Hannah and Becky two long time students who are experience dog trainers teach beginner and foundation agility. Laura has recently joined our team, as a long time teacher her communication skills are of huge value to compliment her dog training. All of our trainers are North West based and we teach from the UK's biggest agility centre base in Leyland near Preston.
Buy your Wildpaws kit here!
We are working with Coniston Corporate to provide you with clothing to your door! Click on the link below to purchase.
20% OFF! using code WILDPAWS20
Wild Paws Agility are proud to be sponsored by Natures Menu – Follow the link below and redeem 20% off your first order!